MAXIMUM WAGE
My friends Henningham Family Press are doing Maximum Wage, a Performance Publishing Extravaganza this Saturday, 12 March 2016. They have invited me to take part by having a stall where I sell my handmade toys and bags, and I am also running the Burro de Change, where my felt donkey exchanges money. The currencies that are being exchanged are Pounds Sterling and Orwells. Orwells are the currency that people can print on the day and spend at my stall. There is also a food stall, and some local businesses have also agreed to accept Orwells on the day.
Saturday 12th March 2016
Doors Open 11am
Drop in anytime until 4pm
FREE ENTRY
St Paul's West Hackney Church Hall
Stoke Newington Road
London N16 7UY
11 March 2016.
---
NEON LOUNGE POP-UP SHOP TODAY! 4 March 2016
Today is the second time I am taking part in Neon Lounge Pop-Up Shop. It is open from 12:30 until 20:30 at The Harrison pub near Kings Cross.
The Harrison
28 Harrison St
London WC1H 8JF
Here are a couple of my bags and also my new creatures, finished yesterday!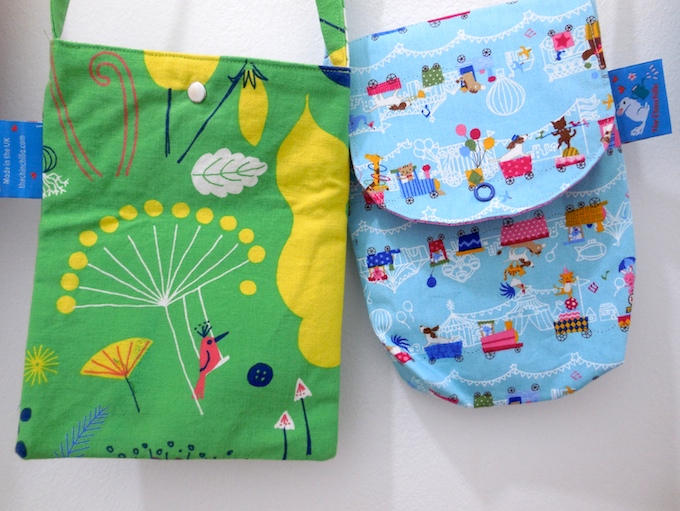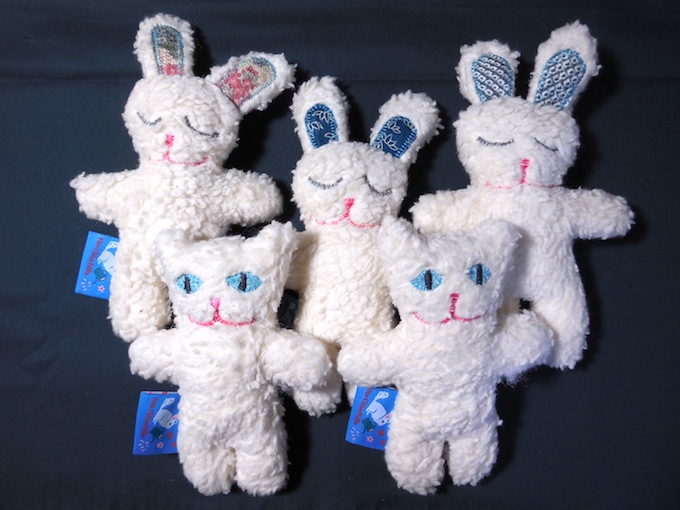 04 March 2016.
---
SOCIETY OF BOOKBINDERS ARTS DAY ON 5 MARCH 2016
I am honoured to have been invited to take part in this year's Society of Bookbinders Arts Day. It will take place on Saturday 5 March from 10:30am until 4pm at:
The Congregational Chapel
Kelly Street
Kentish Town
London NW1 8PH
Entry is £15, or £10 if you are a member of the Society of Bookbinders.
Sarah Bodman will be giving an illustrated talk about Book Art, and I will be exhibiting and selling my handmade books at the book fair.
09 February 2016.
---
POP-UP SHOP AT THE HARRISON
I took part in a pop-up shop last week, it was organised by Noriko Uchima and took place in the basement of a pub called The Harrison which is in Harrison St near Kings Cross. It was really good fun! I sold my handmade cats, bags for children and adults featuring bold colourful print designs, and screenprinted t-shirts. I hope to take part again next time, I will post details nearer the time.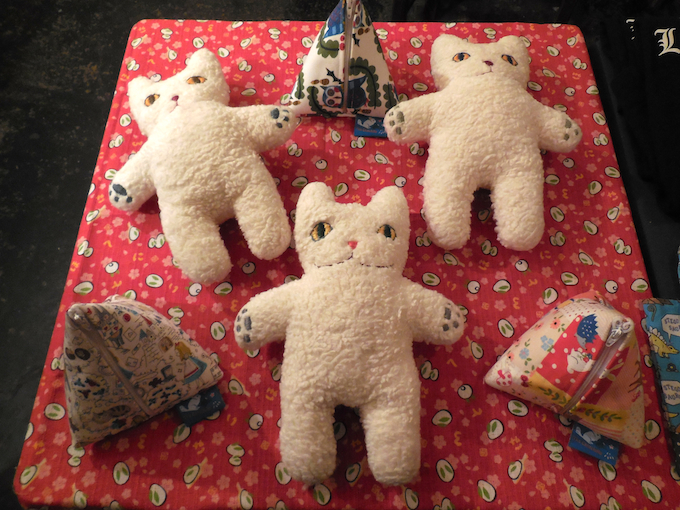 04 February 2016.
---
FINGERLESS MITTENS WITH FISH
My friend commissioned me to knit fingerless mittens with a design of my choice. I made these fishy mittens with Jamieson's Shetland Spindrift. I love them, and I'm very happy that she does too!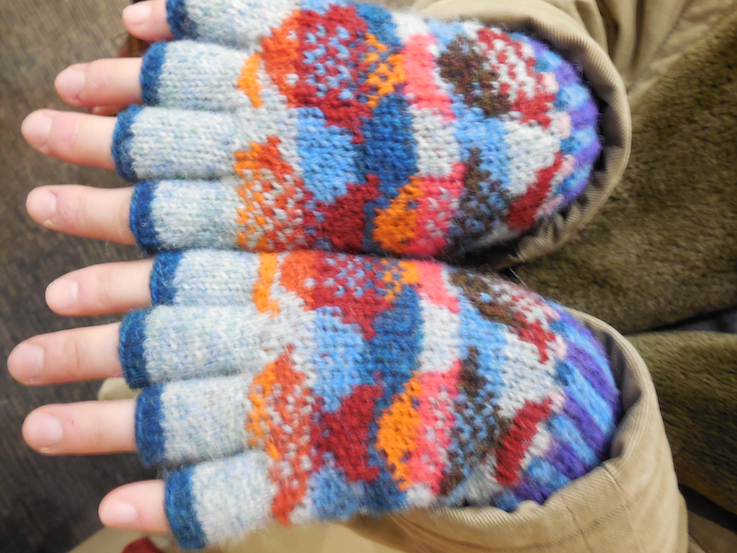 04 February 2016.
---
KNIT CREATURES OUTING
My handknitted creatures went out in the park.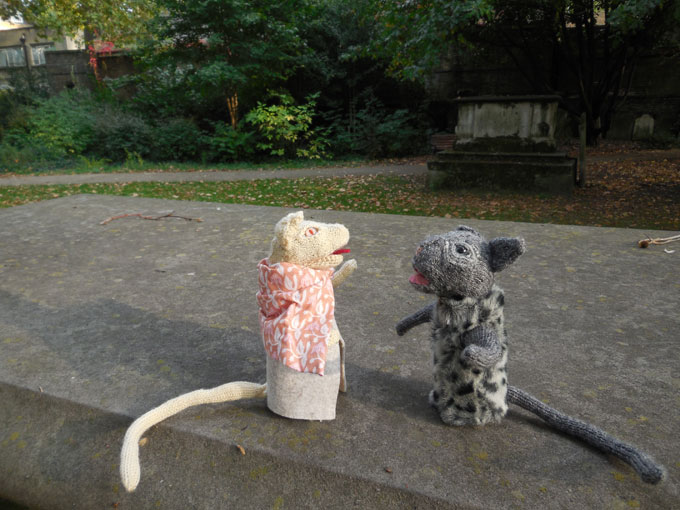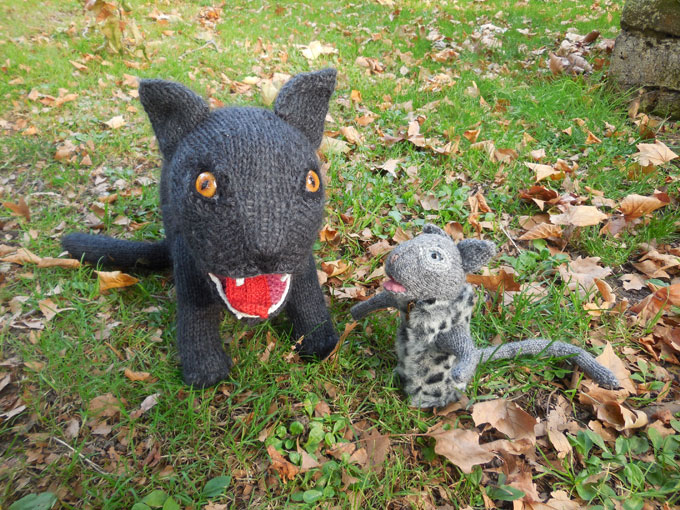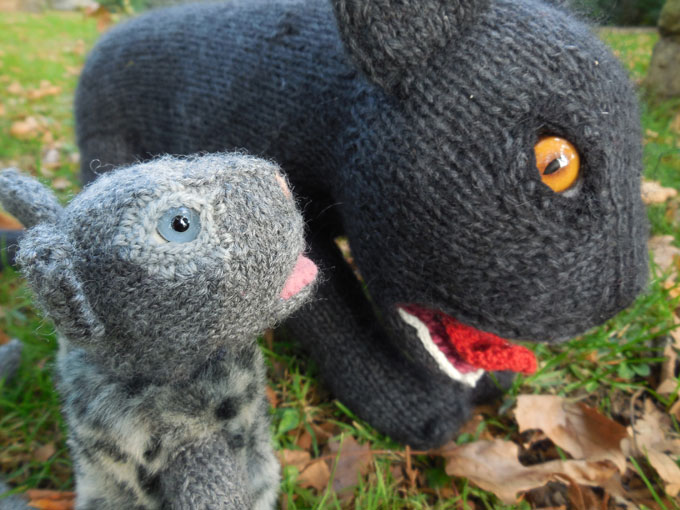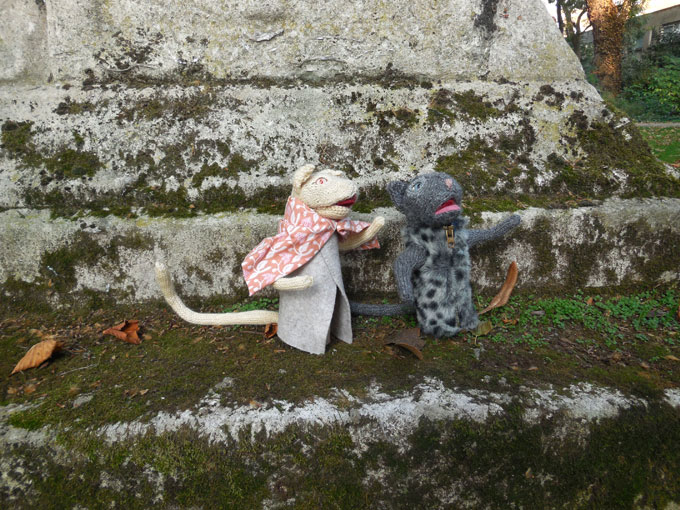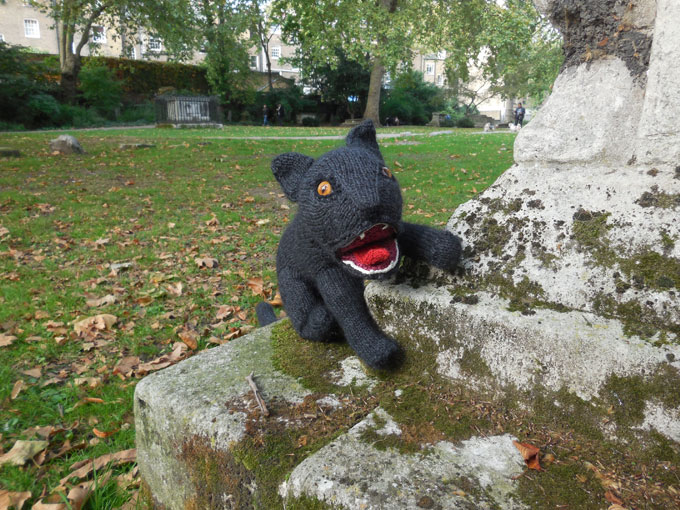 30 November 2015.
---
MY BRILLIANT DINOSAUR BAG! RARRRRR!
I made this beautiful messenger bag using KOKKA fabric. I love the print.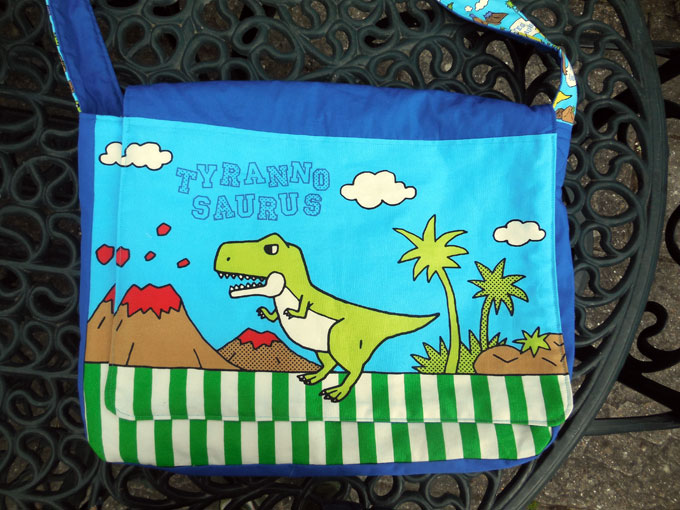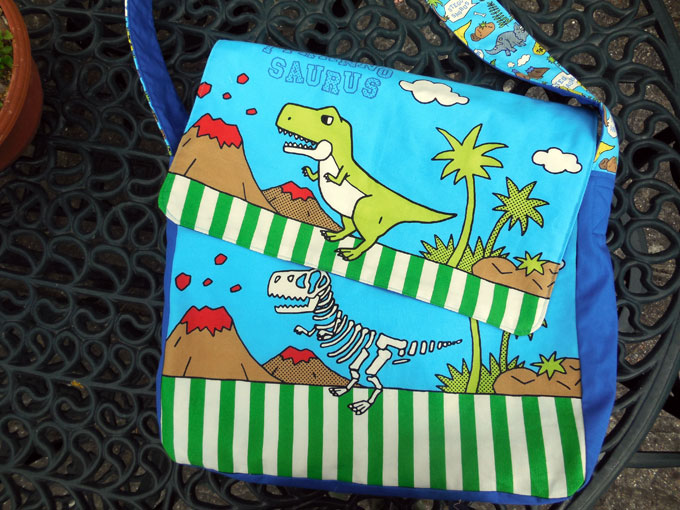 30 November 2015.
---
SMALL PUBLISHERS FAIR 14 & 15 November 2014
Hurrah, it's time for the Small Publishers Fair! It is on Friday 14 and Saturday 15 November at Conway Hall, Red Lion Square, London WC1R 4RL. Entry is free and it is open from 11am both days.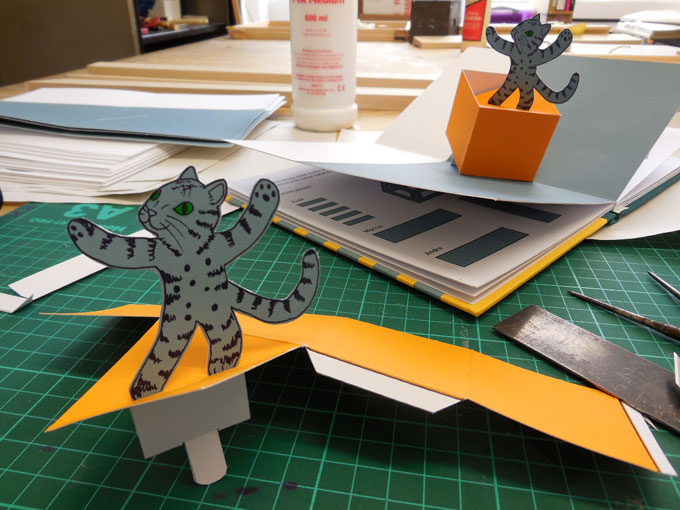 My new book Minimalism Vs. Cats is getting ready for the Small Publishers Fair. It is a very serious book on the theme of Minimalist Sculpture and Cats.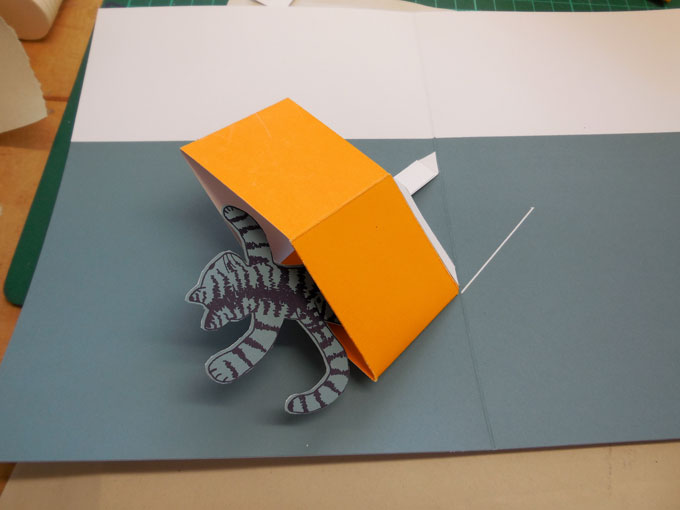 This cat is having a little lie-down before next weekend's action.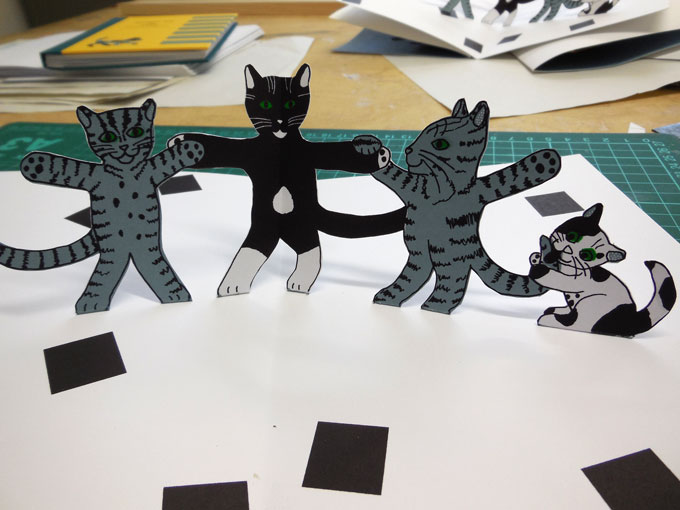 These cats are having a great time at the Sol Le Witt exhibition. How could they not?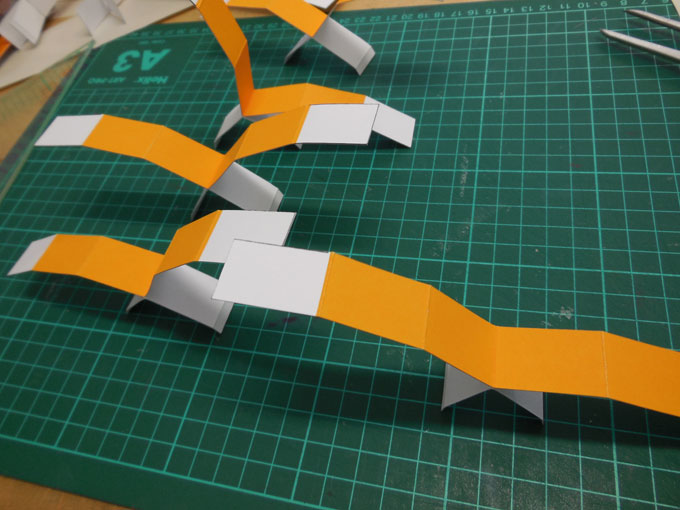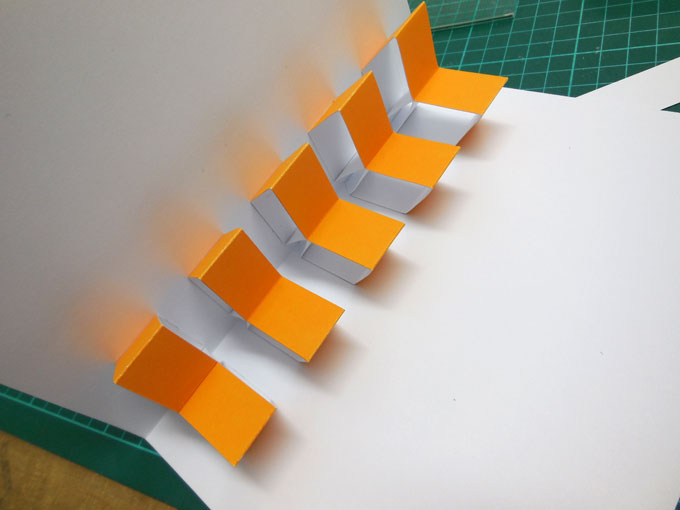 9 November 2014.
---
MAKER FAIRE UK, 26 & 27 April 2014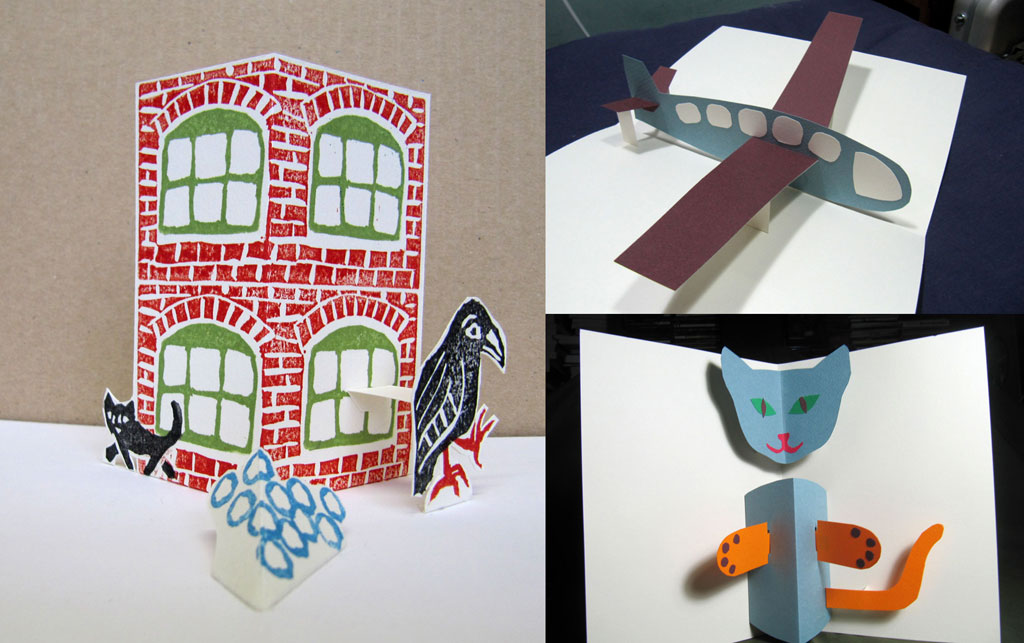 The Chinchilla's Pop-Up workshop is going to Maker Faire UK!
I will run workshops in how to make pop-up cards, using my own prints (screenprint and hand-cut rubber stamps).
Maker Faire UK takes place at the Centre for Life, Newcastle.
7 November 2014.
---
SMALL PUBLISHERS FAIR 15-16 November 2013
I am going to take part in the Small Publishers Fair again — and this year I will be sharing a table with my lovely friend Gareth who does Go Together Press.
Please do come!
As usual, it is at:
Conway Hall
Red Lion Square
London WC1R 4RL
Open Friday 15 and Saturday 16 November, 11am – 7pm
15 October 2013.
---
SMALL PUBLISHERS FAIR 11-12 November 2011
I'm once again taking part in the Small Publishers Fair next week. It's going to be my fourth time, and it is also the Fair's 10th anniversary!
I will be showing my pop-up book Secret Exclusive Shame as well as a brand new collaborative one-off box set of prints I made with Magdalen Gaisford. And other brilliant things.
The Fair is at Conway Hall, Red Lion Square, London WC1R 4RL. Opening times are Friday 11 & Saturday 12 November 2011 from 11am until 7pm. Admission is free. More details including a list of all the publishers can be found on the RGAP website.
1 November 2011.
---
SECRET EXCLUSIVE SHAME
My latest book Secret Exclusive Shame is currently on show at the Poetry Library, Royal Festival Hall — the show finishes on 25 September. It is a pop-up book I made using words cut out from the last ever issue of News of the World. The words "secret", "exclusive" and "shame" were frequently used in that issue, hence the title. The book comes in an edition of 12 copies and will be on show at Kaleid Editions's stall at the London Art Book Fair at Whitechapel Gallery from 23 until 25 September 2011.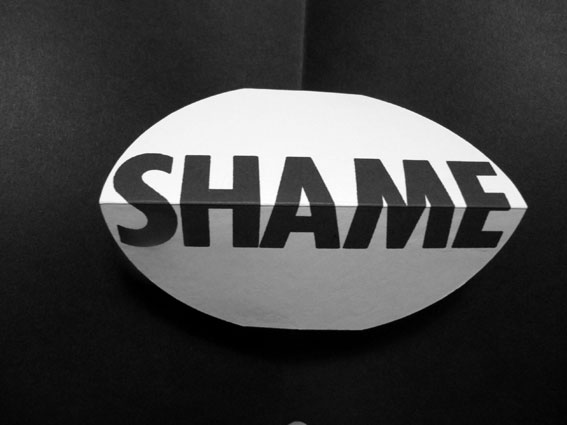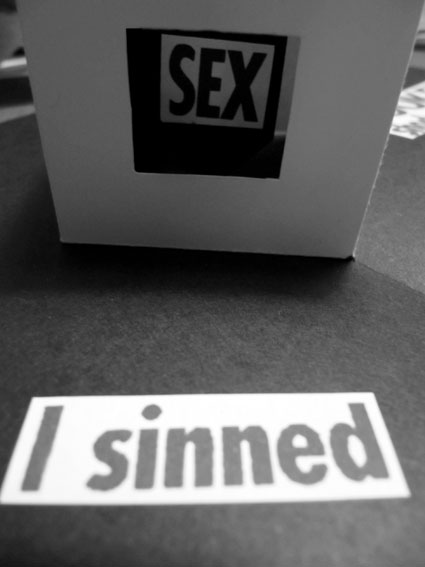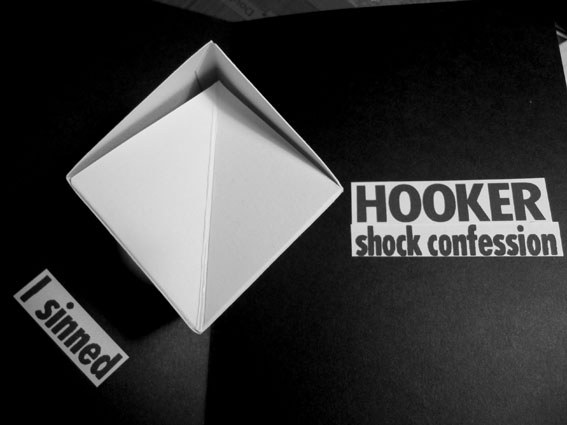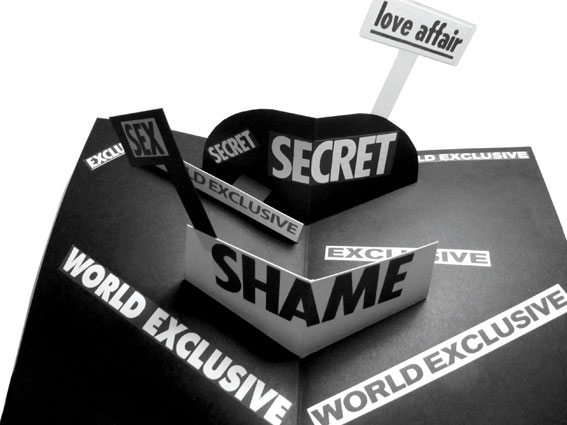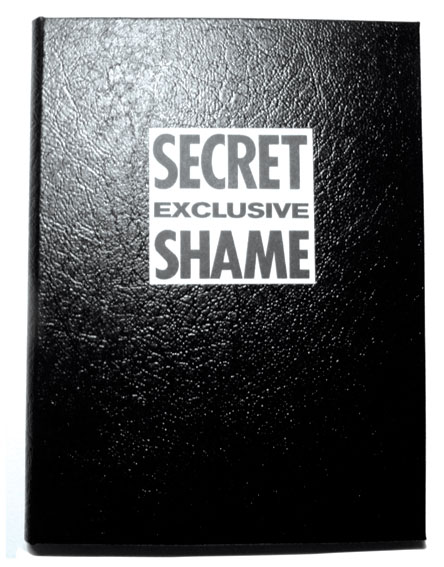 15 September 2011.
---
HEDGEHOG FILM ON VIMEO
I put the hedgehog film onto Vimeo, you can watch it here: www.vimeo.com/thechinchilla/the-old-hedgehog
13 August 2011.
---
HEDGEHOG FILM at the Poetry Library, Royal Festival Hall
This month, my new film The Old Hedgehog is on show at Saison Poetry Library on level 5 in the Royal Festival Hall. The exhibition also includes Oona Grimes and Alexandre Bettler and is part of the Season of Artists' Books curated by Kaleid Editions.
My film is a short animation inspired by The young hedgehog, a cut-up poem by Bob Cobbing which he made in 1956 by cutting up a copy of The Observer. You can see it at the Poetry Library until 31 July, Tuesday till Sunday 11am till 8pm.
On Saturday 23 and Sunday 24 July, 2 - 4.30pm, Oona Grimes and I are going to do workshops in the Poetry Library: Postcard Cut-ups. Free, suitable for children, you can book by sending an email to info@poetrylibrary.org.uk.
If you want to read more about my show, there is a whole page on the Kaleid Editions website.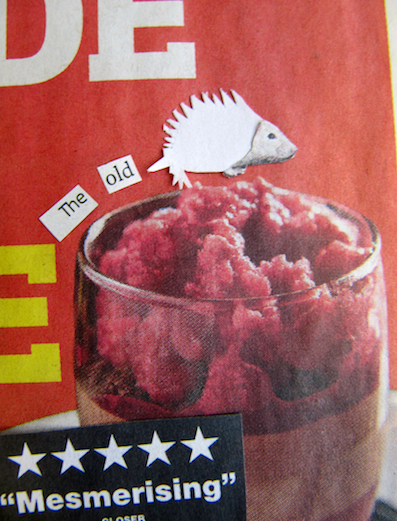 13 July 2011.
---
AMELIA'S MAGAZINE!
My show at Prick Your Finger (which finishes on Tuesday 19 April) is in Amelia's Magazine.
Read a hilarious explanation of the show on the Prick Your Finger blog.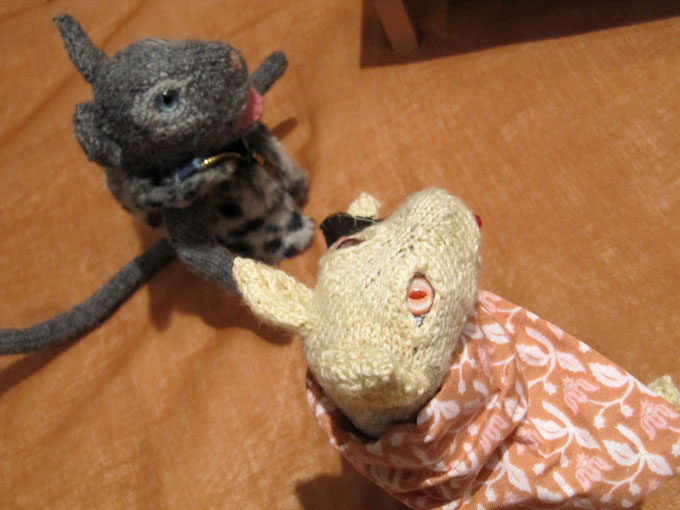 Posted 18 April 2011.
---
FILMS ONLINE!
I have put two of my films online. You can visit my vimeo page to watch them.
Posted 10 April 2011.
---
BURRO DE CHANGE AT PRICK YOUR FINGER
My new exhibition BURRO DE CHANGE is on from tomorrow at Prick Your Finger , my friend's wonderful yarn shop in Globe Road, near Bethnal Green. The opening is tonight, Wednesday 23 March 2011, from 6 to 9pm.
The exhibition will be open until Tuesday 19 April. Please refer to Prick Your Finger's website to check their opening hours!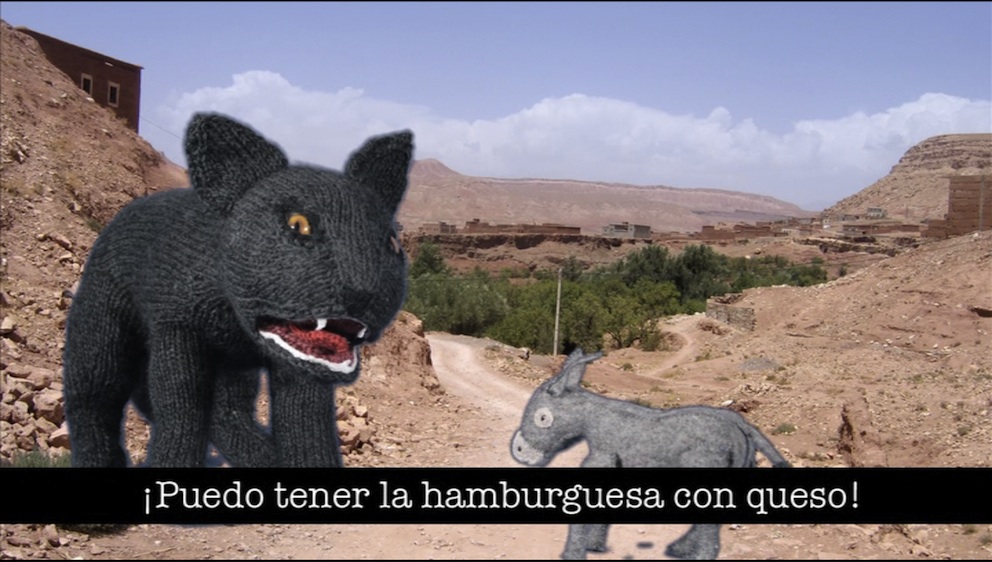 Posted 23 March 2011.
---
MAKER FAIRE IN NEWCASTLE 12-13 MARCH 2011!
The Chinchilla is going to Newcastle! I will be taking part in this year's Maker Faire UK which will be headlining the Newcastle Sciencefest. I will exhibit my handmade books and animals and run some bookbinding workshops. More details to follow.
Posted 13 January 2011.
---
BOOKARTBOOKSHOP
Very exciting news! From today, a selection of my books is available from bookartbookshop in Pitfield Street off Old Street in London. My books and handprinted postcards are presented on a custom-made POS (Point of Sale) which looks so imposing that you can't really miss it.
Posted 3 December 2010.
---
HANDMADE & BOUND
It's the Handmade & Bound Book and Zine fair again this Sunday! I will be there, selling books and calendars and who knows what else. Come along and buy lots of xmas presents! Sunday 21 November 2010, St. Aloysius Social Club, 20 Phoenix Road, Euston, London. Open from 12 to 6pm.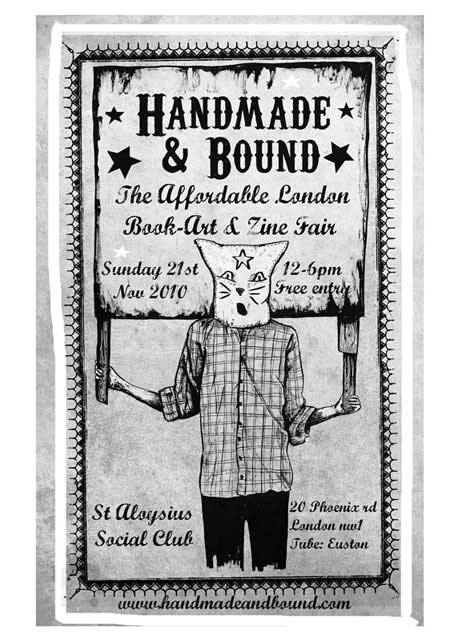 Posted 18 November 2010.
---
RELEASE THE BATS
I've released three tiny new bats today. They were commissioned by my friend. I made them yesterday, and today we met up in a Secret Location for the handover. The bats are made with pure wool felt and completely handsewn. They will move abroad very soon!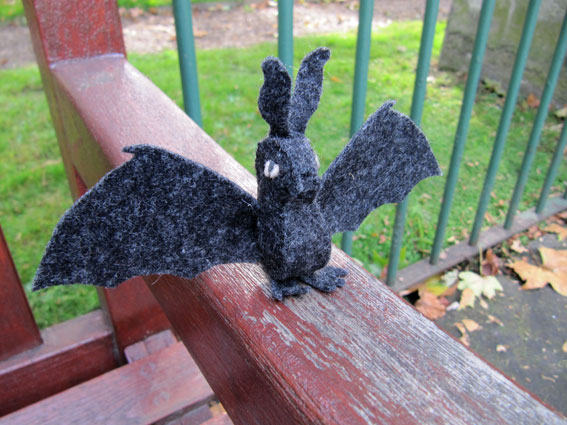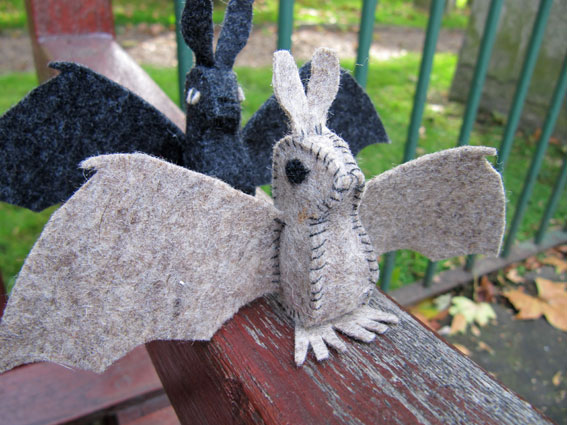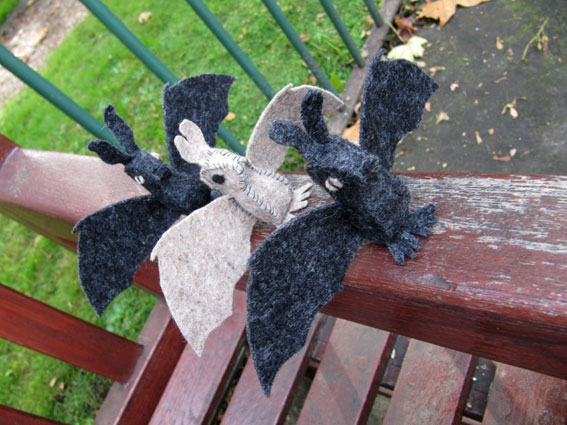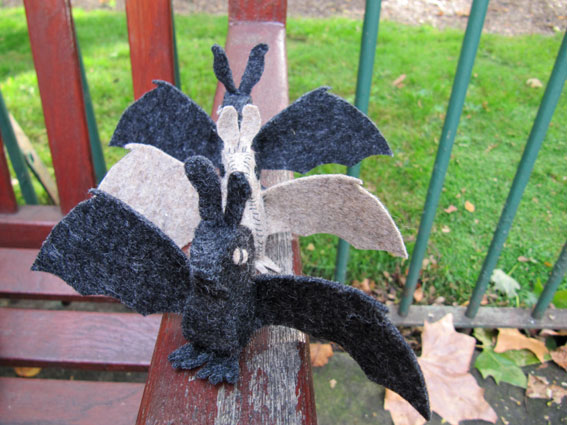 Posted 7 October 2010.
---
NEW CALENDAR
I've been busy over the last couple of months, with teaching a bookbinding class, going on holidays in Germany and France (Germany was particularly good for birdwatching, there were ospreys and white-tailed eagles and cranes — and France was a scuba diving trip which was also fantastic, we saw octopuses, crayfish, very trippy-looking nudibranchs, moray eels, scorpion fish, and lots of other wonderful things — see my dive club's blog [not written by me!] for more details), and last but not least screenprinting a new calendar which will be on sale at the upcoming Small Publishers Fair (Friday 12 - Saturday 13 November 2010 at Conway Hall, Red Lion Square, London) and Handmade & Bound (Sunday 21 November 2010 at St. Aloysius Social Club, near Euston, London). Its theme is Animals and Natural Phenomena. Measurements are 14cm x 13.5cm. The front cover shows a squirrel and lightning. Click to see more.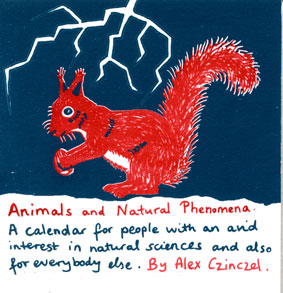 Posted 1 October 2010.
---
MASTER OF THE UNIVERSE
I have just finished my MA Visual Arts at Camberwell College. Here are photos from my final exhibition: I showed two short animated films (TWO, a letterpress animation, and El Burro y los Muebles, an animation using handmade animals, letterpress prints, digital photography and text), a selection of small letterpress prints, and three illuminated handmade animals, the same ones I made my film with. (One of them is the knitted cat from my previous entry, with the addition of some real cat whiskers, kindly donated by Mumra.) Click on image to see the rest.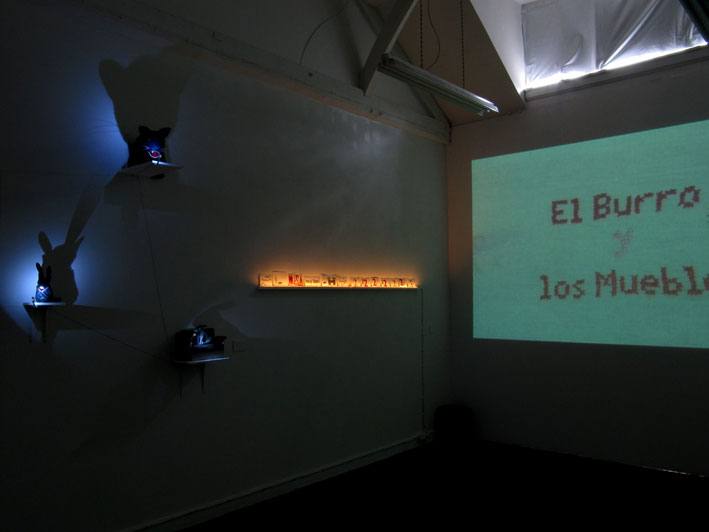 Posted 25 July 2010.
---
I'VE KNITTED A CAT
The teeth are crochet. The eyes are made from glass. Everything else knitted.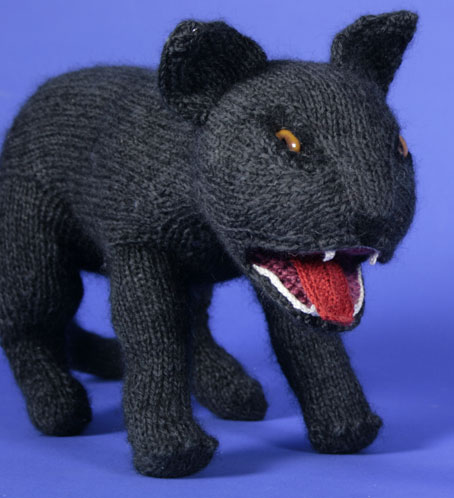 Posted 24 May 2010.
---
FLEDERMAUS CAN'T GET ENOUGH
I made this today.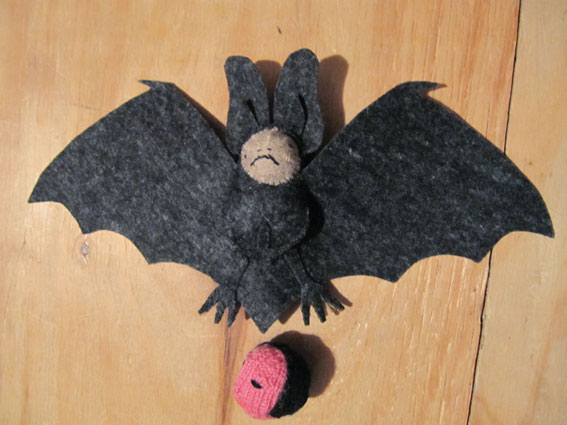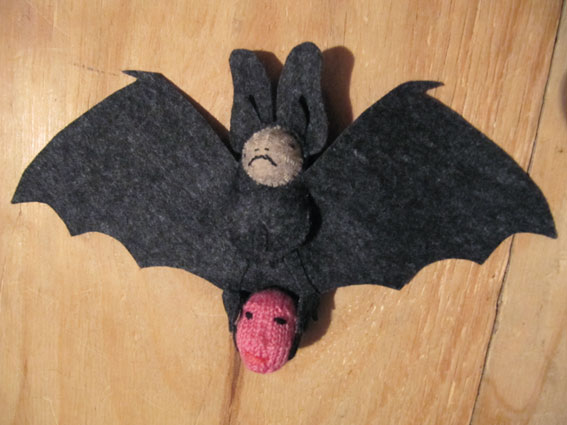 Posted 24 January 2010.
---
LAPICIDE
Here is a picture of a t-shirt design I made in December for the exhibition at the Horse Hospital. It is an offshoot of the work shown below — as I was collecting band names ending in -cide, I found the word "LAPICIDE" and assumed it meant to kill hares. I looked it up and found it actually means stonecutter. It (obviously) references the famous Bathory t-shirt.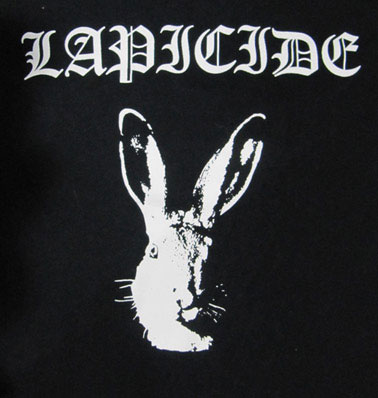 Posted 24 January 2010.
---
HORSE HOSPITAL EXHIBITION
Here is a picture of my new work currently on show at the Horse Hospital. The exhibition is on until 23 December 2009.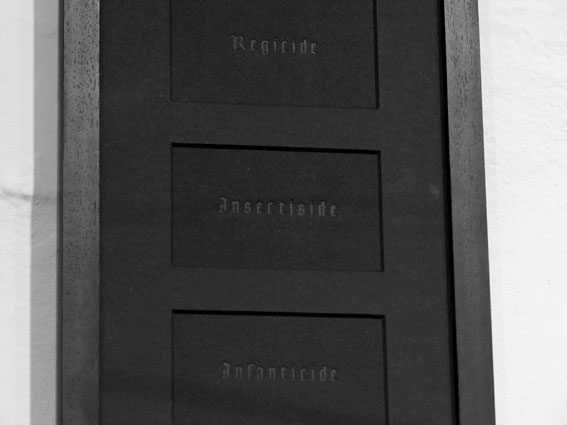 Posted 8 December 2009.
---
PRINT SHOW AT THE HORSE HOSPITAL
My work is going to be exhibited as part of a group show at the Horse Hospital.
PULP
Exhibition: Thurs 3rd December - Weds 23rd December 2009
Mon - Sat 12pm - 6pm
Artist Reception: Weds 2nd December, 7:30pm
In the spirit of our eclectic history, The Horse Hospital is proud to present its first annual print show. Featuring collages, etchings, prints, lino cuts, fanzines, artists books and anything and everything paper by 18 legendary and emerging artists from diverse traditions and disciplines. Come join us on Wednesday the 2nd of December for the private view and pre-xmas drinks with DJs Nervous Stephen and Rocky.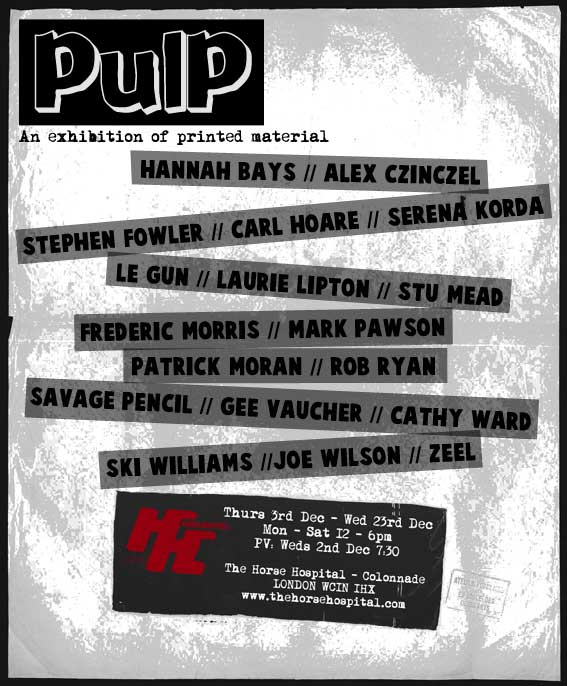 The Chamber of Pop Culture
The Horse Hospital - Colonnade - Bloomsbury - London - WC1N 1HX
Posted 19 November 2009.
---
SMALL PUBLISHERS FAIR
The Handmade & Bound fair is just gone, and the next book fair is only a week away: the Small Publishers Fair at Conway Hall, Red Lion Square, London WC1R 4RL, on Friday 13 and Saturday 14th November, open 11am - 7pm both days. More information can be found on the RGAP website.
Posted 4 November 2009.
---
HANDMADE & BOUND
My new book 16 Murders and a Stonecutter, a very limited edition handprinted handbound letterpress book, will be launched at the book fair Handmade & Bound on Sunday 1 November 2009 at St. Aloysius Social Club, Corner of Eversholt Street and Phoenix Road, London NW1. The fair is open from 12 to 6, entry is free, and there will be lots of other attractions including the great Mark Pawson.
Posted 17 October 2009.
---
LETTERPRESS BOOK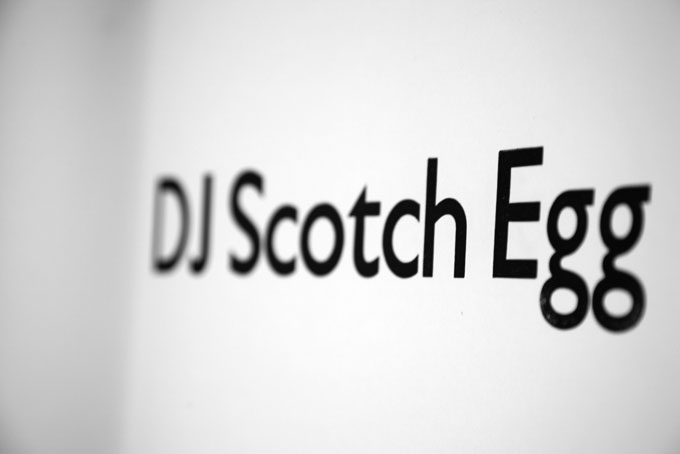 I have been quite hopeless at updating this page, as I've been too busy working — I've recently started two new jobs, one in book restoration, one in bookbinding. But here, finally, is a picture from my book Constant Pain, a collection of silly band names. I photographed it from an angle with a bit of a blur to make it look really arty. (And yes, I know DJ Scotch Egg is not a band. It is a DJ.)
Posted 4 July 2009.
---
MINIPRESSE MAINZ
Last week I went to Mainz to take part in the book fair Minipresse. It was great fun, I sold some books and screenprints, and I got mentioned in the Frankfurter Allgemeine Zeitung!
Now I'm back in London. I'm planning to put up pictures of my new books soon — they are called Constant Pain and Alexandra, and I just haven't got round to photographing them yet.
Posted 31 May 2009.
---
THIS IS NOT SOMETHING I'M DOING BUT I'M ADVERTISING IT ANYWAY BECAUSE IT'S SO GOOD.
Bakirinosu are playing a show at Cafe Oto in London on 21 April.
I saw them perform two years ago at L'experience Japonaise, a festival of Japanese arts in Nîmes. I was amazed. They're two girls who sing a capella and play harmonica, and they are completely irresistible.
Here is a picture of them I made in cross-stitch. (I made a whole book, called "The Creatures of Nîmes".)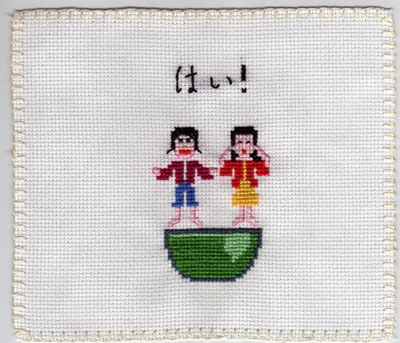 Posted 4 March 2009.
---
E:VENT GALLERY FLYER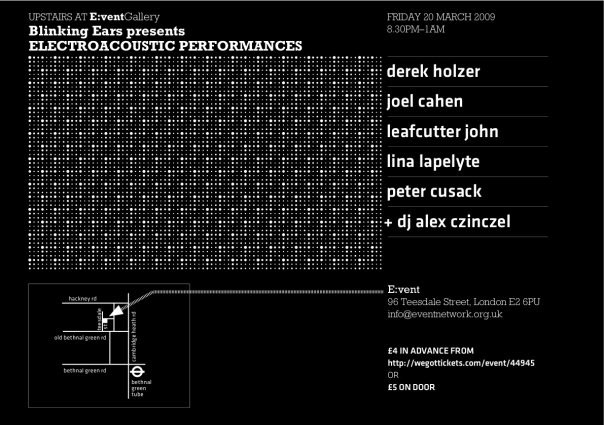 Posted 21 February 2009.
---
DJ CHINCHILLA in MARCH
I'm going to DJ at two very cool gigs in March: the first takes place at E:VENT gallery on 20 March, with performances by Lina Lapelyte, Leafcutter John and Derek Holzer. The second is the closing night of the Nîmes biennial L'Expérience Japonaise on 28 March.
(To be confirmed.)
Posted 17 February 2009.
---
TOKYO
Here are some pictures from my Tokyo trip in September / October. This is me with Mayutan holding up the cross-stitch book I made, which has a picture of her dressed as a cat.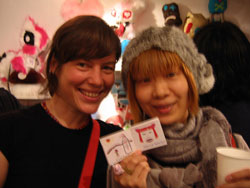 Posted 18 December 2008.
---
SMALL PUBLISHERS FAIR on 24/25 October
I am taking part in the Small Publishers Fair at Conway Hall for the first time this year! Here is a link to the RGAP (Research Group for Artists Publications) website with more details.
Posted 21 September 2008.
---
TOKYO! MORE DETAILS!
I'm rather excited as my Tokyo trip is approaching. The Sonore Anniversary party, at which I will be DJing, will take place on 10 October at Super Deluxe. The live lineup can be found on the Sonore website.
I am also taking part in a group exhibition of dolls, monsters and animals, called Puppen Puppen. This will take place at the Lovelies Laboratory from 10 until 19 October 2008. On the 11th I will hold a workshop there on how to sew a little animal. Please check the lov-lab website for details. I am currently very busy knitting elephants for the show!
Posted 16 September 2008.
---
BOOKBINDING CLASS
I'm going to be teaching an evening class at Central St. Martins on how to make an artist's book using non-adhesive techniques.
It's a ten week course starting on 13 October 2008, and it takes place on Monday evenings from 6pm until 8.30pm. More details can be found here.
Posted 11 June 2008.
---
GOING TO TOKYO
I'm going to Tokyo, as I've been invited to DJ at Sonore's 10th anniversary party. It will take place on 10 October 2008!
I will also show my animals in a gallery, and do a workshop on 11 October.
More details nearer the time.
Posted 11 June 2008.
---
CLARIFICATION
Someone asked me about Mumra. This is him. He is ten years old this summer!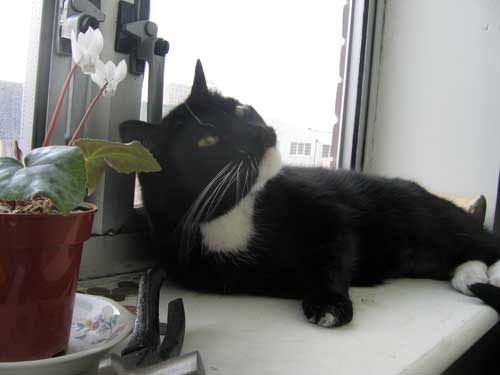 Mumra is my muse. (Pomple-Mousse?) I recently made this purse, which looks almost exactly like him. It is screenprinted.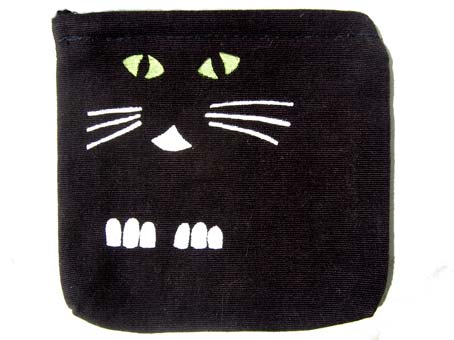 Posted 11 June 2008.
---
AARDVARK!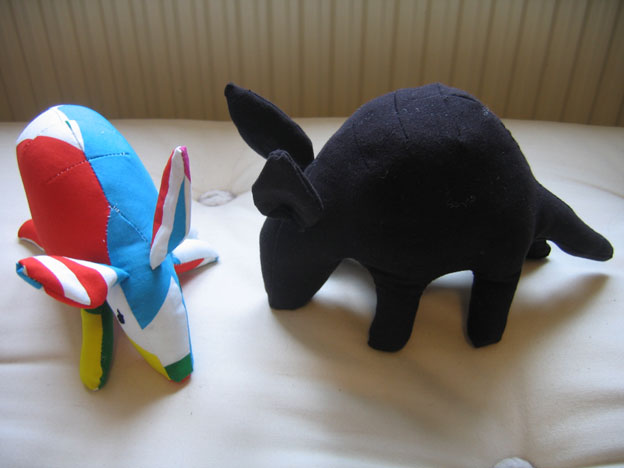 I made some aardvarks over the weekend. Here's two of them.
Posted 2 June 2008.
---
EXHIBITION AT SW1!
My work is going to be exhibited at SW1, a beautiful gallery close to Victoria station. It is part of a book launch and exhibition by charity Westminster Befriend a Family. The book is called Visible, it has stories and poems written by refugee children, and I did the layout for it. The work I'm showing includes Mamura, a screenprinted cat, and Jon the Dog, a cross-stitch dog. The exhibition will be open from 26 to 28 March.
Posted 25 March 2008.
---
NOTHING IN PARTICULAR...
Just thought I'd let you know I'm still alive, as is the wonderful Mumra. We're still in London, still eating too much, still not tidying up our room, still making lots of things but being too useless to take pictures and add them to the website. Well, Mumra's not really making anything, apart from the occasional sound, smell, or fuss. More soon.
Posted 12 March 2008.
---
14 DECEMBER 2007 CABARET MELANCHOLIQUE
I'm going to DJ at Cabaret Melancholique on Friday, 14 December. It is an annual extravaganza organised by Tony Grisoni and Brian Catling, with lots of more or less pointless performances. Tickets are 5 quid and it takes place in Stoke Newington. Please email me for information on how to get tickets: alex [at] thechinchilla [dot] com
---
9 DECEMBER 2007 ADVENT SPRAWL
I'm DJing at the Advent Sprawl No. 2 on Sunday 9 December, it's at the Fleapit in Columbia Road, starts at 6pm, and also features Beddoes And Barry Ray (live) and Joshua Meggitt (DJ). More info here.
---
23-25 NOVEMBER 2007 LONDON ARTISTS BOOK FAIR!
My books are going to be available at the London Artists Book Fair.
ICA, The Mall, London, Friday 23 till Sunday 25 November 2007.
---