A DREAM I HAD AT THE END OF DECEMBER 2008
I dreamt of a black cat. It was completely black, with soft shiny fur. Everything about it was utterly cat-like. I can't remember what it did, it was just running around doing nothing in particular, and maybe it was in a quite homely atmosphere, in a house.
But it wasn't really a completely normal cat. It had four ears: two cat ears and two hare ears.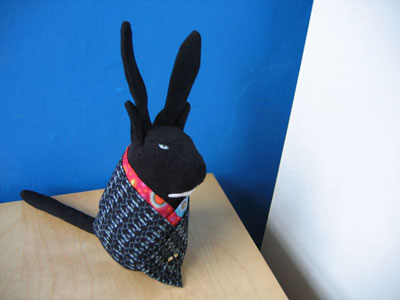 Made in January 2009. Moleskin, cotton, linen, glass eyes, rabbit tooth, toy stuffing.